ASPHALT SHINGLES

Asphalt shingles are one of the most commonly used materials for industrial and commercial roofing. Asphalt shingles are available in many colors, varieties and textures.
SHINGLE CONSTRUCTION
Asphalt shingles are composed of a glass fiber base, with mineral and asphalt mixed with ceramic color particles to provide the different variety of available colors. The fiber glass base layer provides strength and stability to the shingle to withstand weather damage. The asphalt and mineral layer provide waterproofing to the shingle. The colored ceramic particle top layer is what protects the shingle from hail and UV damage.
---
THREE TAB SHINGLES
Traditional three tab shingles are still one of the industry standards for asphalt shingle roofing. The shingles are three feet in length, and are separated into three equal tabbed sections.
---
ARCHITECTURAL SHINGLES
Architectural shingles provide a distinctive visual appearance (giving the appearance of cedar shake shingles). They typically carry longer manufacture warranties as well as improved weather, fire and algae resistance.
---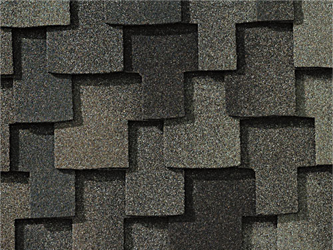 DESIGNER SHINGLES
Designer shingles carry all the benefits of architectural shingles, but are often designed to imitate the more expensive appearance of roofing such as tile, slate and cedar shakes. They typically are a heavier weight shingle that gives an appealing multi-dimensional appearance.