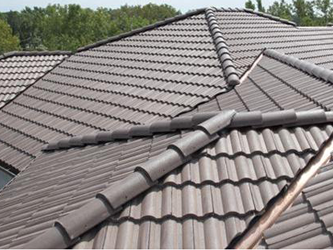 REAL TILE ROOFING SYSTEMS

Real Tile roofing systems are some of the most aesthetically appealing types of roof construction, and can last for a hundred years or more. A Real Tile roof requires significant structural support, and can weigh as much as 18 pounds per sq/ft. Real Tile roofing can be constructed with a variety of materials including clay, ceramic, slate and concrete real tile systems.




---
BENEFITS OF REAL TILE ROOFING
LONGEVITY: Real Tile systems are some of the longest lasting type of roof systems available. Clay and concrete tile systems are extremely durable and resistant to weather and the elements.
APPEARANCE: Real Tile systems are unsurpassed in their visual and aesthetic appeal, and have an extensive variety of colors and finishes to choose from.
ENERGY CONSERVATION: Real Tile roofing often provides improved thermal characteristics that can save on cooling costs in the summer, as well as heating costs in the winter.