EPDM RUBBER ROOFING

EPDM (Ethylene Propylene Diene Monomer) is as a tough synthetic rubber membrane for low slope commercial roofs. It is available in black or white, in a variety of widths and thicknesses. The three types of EPDM installation are ballasted, fully adhered and mechanically attached.
---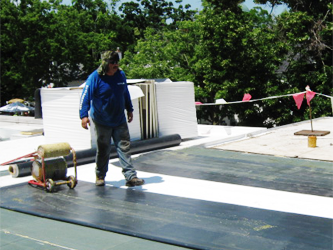 TYPES OF EPDM ROOFING
BALLASTED
Ballasted EPDM construction uses larger sized rolls of EPDM rubber, held in place with a rounded washed stone top layer.


FULLY ADHERED
Fully Adhered EPDM roofing incorporates a mechanism where by the insulation is mechanically attached to the roof, and the EPDM membrane is then glued to the insulation layer with an adhesive.


MECHANICALLY ATTACHED
With mechanically attached EPDM roofing systems, the rubber membrane is physically attached to the deck (often by means of a batten cover strip and roofing screws). The seams are covered and sealed with rolls of EPDM seam tape and adhesive.
---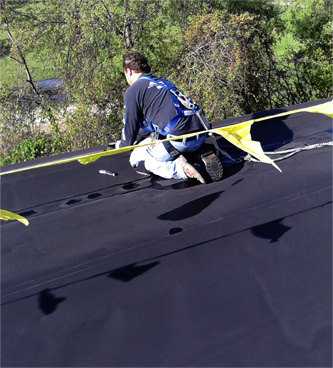 BENEFITS
Highly resistant to the effects of ozone, UV and abrasion.


Exceptional resistance to extreme heat and cold, high winds and hail.


Exceptional elastic characteristics that are able to withstand structural expansion and contraction, which often causes premature failures in other roofing system types.